With over 20 years experience and a significant personal portfolio, Tom Mann is well equipped to provide you with wine investing advice.
First of all, we should make it clear that the fine market is not regulated, and we are not a financial institution. We can't give you financial advice or guarantees about investing in wine.
That being said, if done correctly, investing in wine can be very rewarding. With over 20 years experience in the fine wine trade, and a significant personal wine investment portfolio, Tom is well equipped to provide advice and guidance in this arena. We don't charge any management fees, and there is no requirement to sell your wine through us, although we will always make you an offer!
The graph below shows the Liv-Ex 100 (the industry benchmark) and how it has performed vs the FTSE 100 & the S&P 500 for the last 20 years. Wine investing used to be very much based around Bordeaux, and the hallowed principle was to buy 2 cases – 1 to sell and 1 to drink, and conducted in a relatively relaxed fashion. This has changed significantly in recent years, with considerably more data and professionalism being brought to bear, as well as a much broader range of wines from all over the world.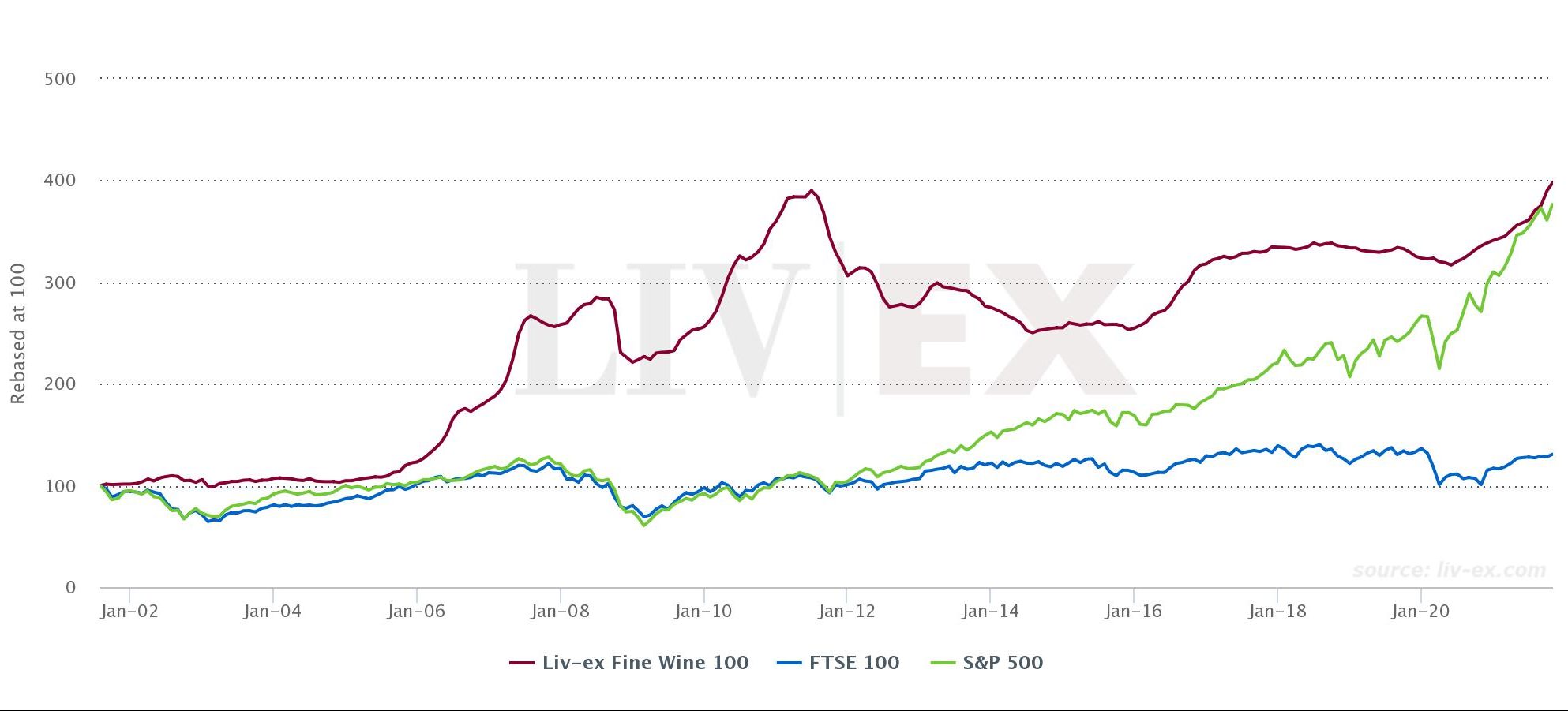 WHY WINE?
Essentially, wine investment is based around the core principles that it will improve with age, and therefore demand will rise, and supply will fall as the wine is drunk. This is still the case today, but other factors have to be considered, such as the increase in global wealth, rising interest in investment allied with increasing ease of use, and broadening demand all over the world. There is also the additional demand for the very best and/or most prestigious, whether that be in wine, luxury accessories, cars or many other things. In addition to that, wine is a physical asset that sits in a warehouse in your name, which you can go and see if you like – unlike an equity or a portion of a fund.
THE CURRENT MARKET
Recent events have really shaken up the fine wine market – during the COVID-19 lockdowns, interest in fine wine spiked, not only for home consumption, but also for investment. Not only that, but the corresponding inflation as the world has reopened has caused a surge in wine prices due to interest in hard assets.
WHAT SHOULD I BUY?
In short, good quality, well established producers. It's ok to take a risk by buying something unknown, but like any investment portfolio, balance and diversity is the key. Only buy wines in bond, in their original cases, and with good provenance. The traditional investment use to be Bordeaux, but Burgundy is the region that has been catching interest recently. Champagne is doing increasingly well, as are Italian wines generally. The best idea is to have a broad spread of wines. Also, the more expensive the wine you buy, the less the storage cost is an issue. It's a lot cheaper relatively to store 2 cases for £1000 per case rather than 20 cases at £100 each. We are happy to provide advice based on your personal criteria.
WHAT RETURN SHOULD I LOOK FOR?
If you invested £10,000 in the FTSE 100 when it was created at the start of 1986, by the end of 2019 your money would be worth about £195,000 today – a annualised return of 7.75% (with dividends re-invested). A similar return is extremely achievable when investing in wine, after taking account of storage fees, and the cost of selling your wine at the end of your investment. Wine is not a short term investment – we recommend taking a 5 year view at least.
WHAT DOES IT COST TO STORE & SELL?
See our 'Sell Your Wine' page for more details, but 8% is a pretty normal expectation for a good-sized portfolio of wine. Our storage rates are competitive with the rest of the industry, and can be seen here.
WHAT ARE THE RISKS?
The wine market is not regulated, and therefore there are potential pitfalls – usually based round bad advice, and/or incorrect pricing. It is important to take advice from honest, reliable merchants, and like any investment, to do your own research! Like any investments, wine prices do go down as well as up – whilst they are generally not that correlated to wider financial markets, there are still dips, most notably in 2009 and again in 2011, where the market was running very hot indeed – sometimes with prices appreciating weekly.
In addition, without resorting to puns, wine is not always the most liquid of investments. In times of global chaos (think when Lehman collapsed), the bid/offer spread often widens dramatically.
You should absolutely take advice from your accountant or a qualified financial advisor, but essentially wine is regarded by HMRC as a 'wasting asset' (subject to certain criteria) and therefore not subject to capital gains tax. Wine does however cost money to store and insure every year, and you don't receive dividends, like you would do with investing in equities. With the tax advantage, and the increasingly broad base of wines that are regarded as investment grade, wine is a very attractive 'alternative' asset that can fit extremely well as part of a larger portfolio.